A 4-Point Training Program
to Navigate Through Regulations
Even with great improvements in clinical research education in the last decade, we're still falling short.
As an industry, we have the knowledge, but we're lacking the application; we continue to routinely violate regulations as evidenced by a continuous stream of warning letters flowing out of the various offices of the FDA.
The FAIR Shake™ technique takes an otherwise complicated maze of requirements and breaks them down into four simple areas that can be applied to clinical research questions. Are you in compliance with:
The goal is to foster a pattern of thinking that will allow you to navigate through the complexity of the regulatory framework in a very simple way that is based in regulatory fact as opposed to popular opinion. This technique will position you to raise the bar on your own study teams as you gain confidence in your ability to wage an educated debate when potential areas of non-compliance are raised.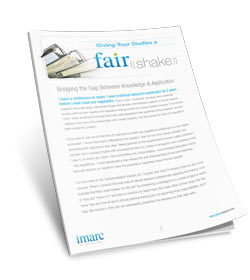 Benefits of the Fair Shake™ technique:
Boil research down to four key areas
Learn how to apply the knowledge
Easily navigate through the regulations
Simplify your decision-making process